How Much Does it Cost to Own a Racehorse?
How much you spend on owning a racehorse will largely depend upon your ambitions and motivations for doing so.  Do you want to own a racehorse as something of a hobby, as a chance to enjoy a few days out at the racetrack every year with friends? Or do you want to own a racehorse with a view to winning the Triple Crown or other major races around the globe? Well, if it's the former, it's still going to cost a lot and you're going to need deep pockets to finance it, especially if you want to own a horse individually. If it's the latter, then you're going to need pockets that go all the way down to your shoes.
The first thing you need to make a decision on when it comes to owning a racehorse is whether you want to be a sole owner or part of a syndicate or partnership. Clearly, if you're going to be the sole owner of the horse then it's going to cost you much more and, if you're not already a millionaire, then being involved in a syndicate or partnership is probably the best way for you to start out, especially while you discover if you actually enjoy being an owner.
A partnership will often be formed between friends, or maybe work colleagues, to own a horse and the amount of horse you own will depend on your investment. To make things easy, you could all agree to invest the same amount and therefore own the same percentage share in the horse. And this can lead to big-race success. Funny Cide, who won both the Kentucky Derby and the Preakness Stakes in 2003, was owned by a group of 10 partners. It is important, though, if you do form a partnership that you do all sign a contract agreement regarding how the money is paid and how any eventual winnings or profits are shared.
[youtube http://www.youtube.com/watch?v=6MN7pscnulA]
Alternatively, a simpler, and potentially cheaper way, to own a racehorse is to get involved with a syndicate. The price of these will vary depending upon the size and profile of the syndicate. Highclere Thoroughbred Racing, based in Britain, is probably the most famous syndicate in the world and contains plenty of well-known people among its members. Over a three-year period, you would likely to pay around £20,000 ($31,000), but you will often get the chance to visit some of the best racetracks on some of the biggest days in the racing calendar. At the slightly cheaper end of the scale, you will find many locally-based syndicates that can have horses with specific trainers. If you are interested in being a member of a syndicate, then it pays to do your research so that you can find one that suits your financial budget and also matches your expectations in terms of what you want to get out of owning a racehorse.
The general fees associated with owning a racehorse tend to be fairly standard and we'll come on to those shortly, once we've gone through how much it costs to buy a racehorse in the first place.
Again, much of it will depend on your reasons for owning a racehorse and what you want to get out of the endeavour.
In Great Britain, for instance, a horse on average will cost £24,000 ($37,000). It's probably roughly the same in the United States as well. In Britain, the cost will depend on whether the horse will be running on the Flat or in the National Hunt sphere over hurdles and fences. It will be cheaper to buy a horse to run under National Hunt rules and you can pick one up for about £5,000 ($7,700). But if you want a horse to have a chance of winning a big race over jumps then you're still likely to have to spend around £100,000 ($154,000) or more. When it comes to horses on the Flat, either in Britain or America, then you're talking more money if you want to have a runner in the major races.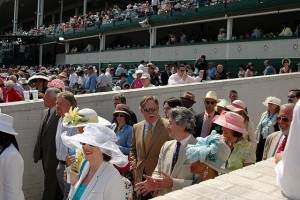 Yet, at the same time, spending large sums of money is no guarantee that you're going to have a winner of a big race. Hydrogen was the most expensive yearling in the world when he was bought at public auction in 2012 for £2.5million by Qatar Racing Limited. But, now a four-year-old, he has run just twice in his career, finishing sixth and fifth.
On the other side of the coin, a horse called Speciosa won the 1000 Guineas at Newmarket in England in 2006 after costing just £31,500 ($48,500). She finished with career earnings of nearly £350,000 ($539,000) and the owners turned down an offer for her of £600,000 ($925,000) before she had even won the 1000 Guineas.
So you can see that spending a relatively modest amount of money on a racehorse and still having a chance to win the big races is not a completely impossible dream. Although if you look at the betting on the Epsom Derby, for instance, you will find most of the leading contenders are owned by the Coolmore operation in Ireland, who invest heavily in racing.
Once you have decided on how much you want to spend on a racehorse, then you can contact either a trainer or a bloodstock agent to help you find a horse for the right price, whether you are going to be an individual owner or a partner.
You can then enjoy the thrill of being able to name your racehorse and choose the colours which it is going to run. Be warned, though, that you could have to pay to get the silks that you want your horse to run in.
Now you've bought your horse, it's stabled with a trainer, you'll want to know how much it's going to cost you.
It generally costs, on average, between £15,000 ($23,100) and £20,000 ($31,000) to train a racehorse annually. This price will include a basic training fee for when it is being trained during the season to run, and also the price when it is not properly in training and is enjoying a rest in a field somewhere. It will also include a figure for a blacksmith, for plating the horse, transport to the racetrack, if required, race day wages for staff and gallop fees as well. Each trainer may have different charges, so make sure you check them.
However, that annual amount doesn't factor in race entry fees or jockey fees. The amount you pay to
enter a horse in a race will depend upon the race. The better the class of race, the more expensive it will be to enter your horse. For a jockey fee, you could be looking at anything up to £140 ($216) every time someone rides your horse. It can often be easier to let your trainer take care of the entry and jockey bookings.
Of course, once you get your horse to the racetrack, you'll hope to recoup some of your investment by seeing it win, and you will also likely have bet on the horse as well. But you should note that around 25 per cent of the prize money doesn't go to you. The trainer and jockey will usually receive 10 per cent each, and another five per cent can go to stable staff or racing charities.
In all, you will likely spend five times more than you get back when it comes to owning a racehorse, so it's not something to get involved in without giving it some serious consideration.
But, for around £25 ($38) per week, you could be a member of a partnership or syndicate which enjoys some unforgettable days at the races and maybe, just maybe, a Kentucky Derby winner.