How Much Does a Wedding DJ Cost?
Planning a wedding can be a difficult task. One of the things that has to be considered as the entertainment at the reception. Whether you want to slow dance to The Temptations Greatest Hits, or maybe country music and Keith Whitley is more your style, a good DJ has access to all styles of music. The most popular choice in recent history has been a DJ instead of a band, because the cost is significantly cheaper, and people like to hear the classic songs from the radio. So how much does a wedding DJ cost?
Location
As with everything, location will factor the cost of a wedding DJ. New York City and Los Angeles will be more expensive than Akron or Tallahassee. There's not much to be done about this since most people decide on their wedding location long before planning anything.
Craigslist
New technology has allowed for many people, probably one of your cousins, to be a DJ. Software like iTunes can make it possible to have an entire music library on hand in a small laptop. I did some research on craigslist in major markets across the country, and found there are a lot of advertised wedding DJs going for the very cheap rate of around $300-$400. The advantage to these DJs is obviously the cheap price. The disadvantage is the fact that you get what you pay for, and you're taking a risk on the person being pretty bad as the DJ. However, the market is flooded with DJs and it is possible to find a passable DJ at this price. I would recommend asking for three references and speak to these people before hiring anyone at this level. Also, make sure they are legitimate references and not their roommate or sister.
Professional DJs
The typical approach would be hiring a professional DJ. The standard rate falls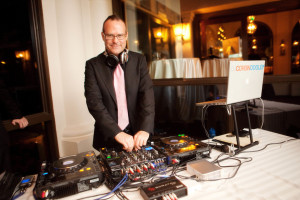 between range of $1100-$2000 depending on experience, location, and extra bells and whistles like also playing during your cocktail hour. This should also include a professional lighting set up for the dance floor as well as wireless microphones for toasts and speeches. There are a few ways to keep the costs on the lower end of this range including having your wedding during off-peak time of the year which is typically winter, booking the DJ far in advance, and avoiding extra charges such as travel costs for out-of-town DJ. The advantage to hiring a professional DJ is the high-quality of the service and not having to worry about some risky, inexperienced, cheaper DJ. They will typically spend 25 to 35 hours in preparation for your 4-6 hour wedding, and should be very accessible for questions, playlist ideas, coordination, and general support.
Summary
Congratulations on your new partner! It looks like your wedding DJ will cost anywhere from $300-$2000 depending on level of experience. My advice is to try to find a professional DJ for around $1000 will also include a lighting set up. Search for wedding DJ along with your ZIP Code on Google to find the top deejays in your area. Check their websites for any promotions, or give them a call and ask about pricing and availability. Don't forget you can always negotiate, and feel free to say that your budget is around thousand dollars maximum.