How Much Does It Cost to Paint Your Home?
Every home is different, but every homeowner will most likely face the challenge of painting their house. You might be asking: Can I do this myself? How much time will it take? And the big concern: How much will this cost? With so many options out there, the task seems daunting. But do not fear! This article will take you step by step through each consideration you'll face upon embarking on your painting endeavor. With careful consideration as to what is best for your specific situation, you can feel confident in your decision on how the job should be done.
Doing it yourself
If you are an avid DIYer or working on a tight budget, you might decide to take on the labor yourself. This will significantly cut costs for your project since all you will need to buy are supplies. To start, a gallon of paint will run you anywhere from $15 to over $80. While price isn't the only indicator of paint quality, it does benefit you in the long run to shell out up front for a better-quality paint, especially if looking to paint the exterior of your home. Seeing as this coat protects your siding from the elements, it makes sense to invest more in your home's "first defense."  Additionally, here are items you will need to assure the paint ends up where you want it and looking how it should: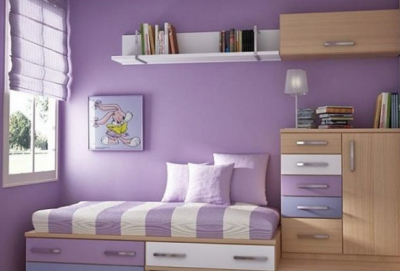 Spackle if you have any holes
Fine grit sandpaper
Painter's tape
5 in 1 tool
Drop cloths (Canvas or plastic)
Paint brushes (Angled brush & a 3-inch flat brush)
Roller frame
Roller naps
Paint tray
Extension rod (For high ceilings)
Stepladder (if need be)
If looking to paint the exterior of your home yourself, also factor in the purchase of rental costs for larger ladders and a pressure washer if they aren't already in your possession.
How much paint will you need?
As for the amount of paint you will need, a general rule of thumb is that one gallon of paint will cover 350 square feet with one coat. A 12×12 bedroom, for example, will likely need 2 or 3 gallons, and it is safer to overestimate in case touch-ups are needed down the road. Make sure to assess the surface quality, as something like a porous surface will mean more paint is needed. Expect to spend roughly $100-500 per room if you choose this route.
Hiring a professional
If math gives you a headache, your time is limited, or you just want assurance that all goes smoothly, a professional might be for you! In addition to a higher quality, you will save yourself from backbreaking work that could take many days to complete on your own. On average, 75% of the cost of a professional paint job will be in skilled labor, but when it comes to the quality of your home's interior or exterior it is well worth it. The cost for a professionally painted room ranges depending on your geographical location and room size, but $380-$790 is typical for a 10×12 room. An average house exterior might run you anywhere from $1,000-4,000. Some companies will offer a flat fee based on the square footage of your house, while others will charge by the hour. Make sure to shop around for prices, get recommendations and read reviews to figure out which service you feel the most comfortable with. Also, make sure to ask if their rates include the cost of materials, so you have a complete idea of what your costs will be.
Painting's influence on your home value
While the cost of painting your home, especially the exterior, can seem like a lot to take on, there is good news. Refreshing your exterior paint just about always increases the value of your home—by as much as $25,000 or even more! Appraisers are not going to be concerned with the color of your interior or exterior paint, but any paint job that improves the condition of the home is an automatic boost to your house's value. And while your interior wall's new coat won't change the appraised value, certain colors will influence buyer's opinion's and wallets. Even if you have no plans on moving, new paint can be beneficial to the longevity and enjoyment of your home.