How Much Does it Cost to go on a Hot Air Balloon Ride?
Hot air balloon rides have gained a lot of popularity all across the world. This is because it is a very exhilarating experience to get along with your loved ones on a superb ride that takes you up above in the air. Gliding over the treetops with lush green grass and other scenery below and an open blue sky above is a spectacular feeling. When you are planning for one such you will surely think of how much does it cost to go on a hot air balloon ride.
There are too many aspects which affect the price of the ride but generally the ride you choose is pre-decided and is cannot be personalized. The ride would last for say around an hour and will take place most of the times during the sunset or then the sunrise. These rides vary from the aspect of the companies which offer you these rides. Most of the companies these days have come up with new aspects like that of couple rides ($200/person), romantic rides ($400 – $1000/couple) and lot more.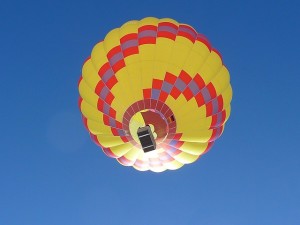 If you are planning for a hot air balloon ride with your loved one then you can also think to book location themed rides or time based rides. Here you can plan some special surprises or then a few memorable moments with your partner. Apart from the cost of the same you will be able have many happy moments with your partner that can be treasured for over a life time.
In case you are in a big group then you can also choose to pick on a group ride. Though this will be cheaper ($200 – $250/person) it is going to be great fun. You can have your own group of friends with you and thus can have the best of time up in the sky.
The entire experience of enjoying the hot air balloon ride might take three to four hours. Thus if you wish to enjoy it at the best you have to keep aside this much time when you are there. There might be many companies who would also offer rides at odd hours (keeping in mind the weather conditions) which might be a little cheap and thus you can try for the same if you want the ride at a low cost.
Ultimately how much does it cost to go on a hot air balloon ride can be known by deciding on the ride, time and company you pick. But you can always personalize your tour paying some extra dollars.