How Much Does It Cost to Fly within Europe?
Are you planning a trip to Europe anytime soon? Traveling within Europe might be one factor you have not considered. Why not take some cheap flights and check out several places to cross off your bucket list? If your United States citizen that does not leave the country very often, it's easy to forget how small other countries can be geographically. You could fit several countries inside the state of Texas. 🙂 Many travelers will just stay in the destination and get by on public transportation or rent a vehicle, but you can go farther very fast and affordably by taking another flight. One of the most cost-effective airlines we found is called Ryanair. Okay, for this example let's assume you're traveling to London. The price of a one-way ticket to these destinations are: Cologne, Germany $13.22 – Deauville France, $13.22 – Glasgow $13.22 – Oslo Norway, $13.22 – Basel Switzerland, $17.20 – Billund Denmark, $19.84 – Cork Ireland, $19.84 – Milan Italy, $19.84 – Barcelona Spain, $22.49 – Athens Greece, $33.08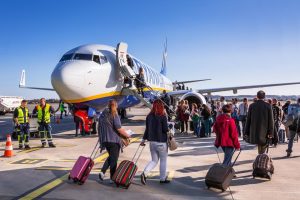 As you see, traveling within Europe via an airline is very affordable and maybe the best way to check out a few countries for about a $20 plane ticket rather than sticking to one spot. Of course, there's always ways to save a little more money, and we found a few tips for saving some cash if you fly with Ryanair via Travel Ticker.
Credit Card
Nowadays, paying for plane tickets is done via the internet and via your credit or debit card, and we barely can see a person paying cash. However, Ryanair charges their customers a bit if they buy their tickets using credit cards! This company charges 2% of your total transaction, and you can't really avoid that if you are buying everything online and pay with your credit card. Hence, maybe next time try to buy your plane tickets paying cash?
Bringing a Baby
Although many airlines have a policy saying that every child younger than two years can fly for free, Ryanair doesn't have this policy. In fact, if you are planning to go on a European holiday with your whole family with an infant, you will be charged an additional $22.48 USD fee. Surely, this doesn't mean that you will have to pay for an extra seat for a baby (which will cost you way more than this fee), but knowing this fact can be quite useful if you are a really budget-conscious traveler.
Boarding Pass Reprint
This is one of the most popular ways that travelers fail to avoid additional and unnecessary fees. If you are going to fly with Ryanair, you must do your check-in online. Otherwise, you are going to pay around $17 USD for the boarding pass reprint once you show up at the airport without doing that at home. So, to avoid this ridiculous fee, just check-in online!
Name Changing
Sometimes we accidentally misspell our names or incorrectly fill our fellow passengers' information. And yes, we are totally going to pay a lot for this mistake. Once you buy plane tickets at Ryanair and discover that your name is misspelled, in order to change the name you will need to pay approximately $123 USD online or $180 USD at the airport. This is actually one of the largest airline fees ever, and the only way to avoid it is to double or even triple check the spelling. However, if you still make this mistake, try to call customer service instantly and deal with the problem charge free.
Flight details via SMS 
And finally, if you would like to get all the information about your flight via SMS, you are going to pay for that too. Of course, if you agree on that. In fact, Ryanair charges around $3.49 USD for this service and if you don't mind it, or if you think that getting this information in this way is worth the pay, that is totally okay. However, if you would love to skip this amenity, just choose to get your info via email, or you can simply print the screenshot and avoid paying for that in general.