How Much Does a Disney World Vacation Cost?
Whether you just won the Super Bowl, or maybe just scored a little cash playing fantasy football, maybe it's time to go to Disney World. So how much does a Disney World vacation cost? There are many factors that go into the cost including time of year, lodging, tickets, and food expenses. Let's take a look at what it might cost for a family of four consisting of two adults and two children.
Time of Year
The time of year will factor in to your costs in regards to airfare to Orlando.  Summer is the most popular time for families to go to Disney World because the kids are out of school. The cost to go to the magical kingdom during the summer is a middle-of-the-road price. The cheapest time to go is September through early December, so if your kids can miss a week of school somewhere in that time frame you can save around 25% of the overall cost. The most expensive time is over the Christmas holiday week along with spring break.
Lodging
You can either stay at hotels within the park or outside the park. You can find cheaper hotels outside of Disney World, but then there's the time and car rental fees involved, so I recommend making it easier on everyone and staying in one of the Disney World hotels. It also adds to the magic, and helps you escape into the Disney experience completely. Don't worry, there are places in the park more oriented for adults, so you won't lose your mind. Sorry dads, you can't bring your kegerator. Disney has 20 different resorts on the property and they are divided into cost categories which include luxury, moderate, and value. For this example, a hotel for two adults and two children in the moderate category will cost approximately $1200 for six nights and seven days.
Tickets
The cost of Disney World admission tickets will jump up from time to time to compensate for inflation. The park considers a child's ticket for ages 3-9, and anyone 10 or older is considered an adult ticket. A six-day adult ticket is $288, while the same ticket for child is $260. There is around a 50% discount in buying a week long pass instead of a daily pass, so you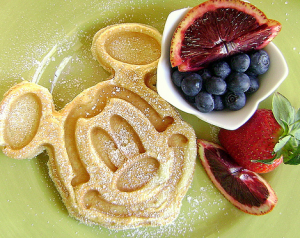 might as well live in the park for a week and become a close personal friend of Donald Duck.  Keep in mind there are additional costs for certain attractions including some of the Water Parks, Wide World of Sports, and Disney Quest. You can find great deals online and lower the costs by using an Undercover Tourist coupon code.
Food
Food at Disney World and surrounding Orlando establishments is on the pricey side. My suggestion is to head to the local grocery store when you get there and stock up on items to make easy meals in your hotel. Don't forget to check on the amenities in your selected hotel room to figure out your cooking plan. Is there a microwave, sink, and refrigerator? These might be things that you want if you plan on going thrifty on the food. You can always splurge on a few meals at Mickey's diner. The other option is to go with a Disney Dining Plan which includes a daily breakfast, self-service meal for lunch, and a table meal with waiter/waitress and will cost a family of four $150 per day.
Summary
So how much does it cost? Your family of four can expect to pay around $3300 plus travel expenses to vacation at Disney World for a week with a moderate priced hotel in the park and the Disney Dining Plan. You can save some money on travel by flying between September and early December, or be like the Clark Griswold Family and road trip while listening to Holiday Road by Lindsay Buckingham. You can plan a more intimate vacation for just you and your spouse, maybe an Alaskan cruise or Australian walkabout, during your downtime in the kingdom!